Seven Fashion Tips for the Plus Size Woman
For the plus-size woman, it can be rather difficult to find the right styles for your body type. In the past, it was nearly impossible to find cute, body-flattering clothes for the plus-size woman. You were stuck wearing loose fitting clothing, and feeling less-than-confident. However, now, it's easy to find great clothes, no matter what your body type.
Women who carry a few extra pounds are feminine and curvy. In fact, there are lots of men out there who believe that the beauty of a real woman is in those very soft, very voluptuous lines. Following are a few tricks that can give you a serious confidence boost and turn you into the beautiful, confident woman that lies inside your heart. You can choose your pieces to accentuate the positive and give you an astonishing, eye-catching look.
When considering plus-size fashion, you must not only consider clothing, but the accessories as well. Taking the time to choose some pieces and great accessories will take the eye away from those "problem" areas and bring attention to those that you feel are the most beautiful.
No matter what size a woman is wearing, she can still be chic and amazing. The trick is to find your personal style and learn how you can take advantage of your curves. Here are some ideas for your plus-size wardrobe.
Choose vertical stripes
Believe it or not, vertical stripes really will make you look slimmer and taller. This iron-free Ulla Popken Iron-free Spread Collar Shirt
is a great example of that – it comes in black and white or blue and white stripe. Another great example is this tropic Ulla Popken Tropic-cool Button-front Gauze Tunic
. This gives you a colorful look, while also making you look slimmer and trimmer. Here's a really cute maxi dress
from Amazon.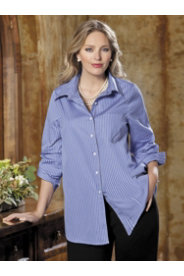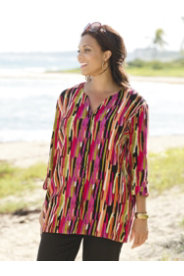 Never wear oversize clothes
Too many times, a plus-size woman makes the mistake of choosing clothes that are way too big for them. They believe that by doing this, they can hide their "problem" areas. However, the only thing wearing baggy clothes does is make you look bigger – and actually draw attention to those "problem areas." Instead, choose clothes that are made to fit your beautiful curves such as this Ulla Popken Crochet Trim Dress
– it fits the bust area and gently falls around the hips. Here's a handkerchief hem tunic from Amazon.

Choose V-neck jackets and blouses to make your neck look longer
Many plus-size women have a large chest and may feel very self-conscious about it. However, if you choose a V-neck top, this will make your neck look longer and they look great on your body type. This style will keep your neckline open and your gorgeous face will be highlighted. This Ulla Popken Cross Over V-Neck Sweater
will look great on any plus-size figure. This slimming empire waist top
 from Amazon has the V-neck, plus the busy design directs attention where it belongs – your beautiful face.
Jackets will also give your curvy silhouette the perfect shape. Of course, make sure to wear them open, as buttoning them can make you look bigger than you really are. This Ulla Popken Techno Seamed Snap Blazer
will add an air of professionalism to your look. This crepe waterfall blazer jacket
from Amazon is also a great look.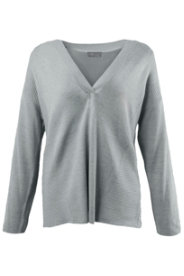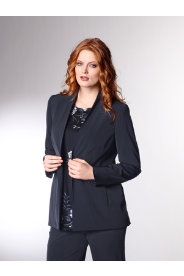 When wearing skirts, choose a longer, A-line style
A longer skirt is less wide and therefore will make you look both taller and slimmer. The best style for a plus-size woman is the A-line skirt. This will give your body a nice shape and therefore, a beautiful look. Ulla Popken has a really cute Whisper-light A-line Denim Skirt
. Also, Amazon has this beautiful smooth waist A-line denim skirt
.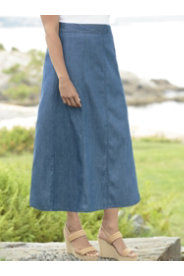 Keep in mind that pants that are straight cut are best for your body
A pair of straight leg pants will give your body a continuous line, which will make you appear slimmer and longer. Also, if you believe that your hips are too wide, straight cut pants are the best option because they fall straight down from your waist to your ankle. Of course, you'll want to make sure to choose denim that has stretch and wear basic/neutral colors such as dark green/blue, brown, grey, or black. Don't choose an odd color or a striking pattern. These boot-cut relaxed fit jeans
from Amazon, paired with a cute top, would be the perfect outfit for a night out on the town. These Ulla Popken Straight-leg Stretch Twill Pants
with a great top and blazer are perfect for the office.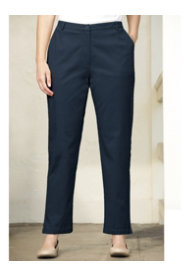 Always have a few pairs of leggings in your wardrobe
Leggings are a fashion piece that have come in style and gone out – but now, they're back in style and everyone has to have them! They are most popular among the younger crowd, but if you want a stylish look, a pair of basic black leggings combined with a cute sweater or tunic create a very chic look. These black leggings with lace panels
from Amazon work well for dressing up or down. These Ulla Popken Essential Jeggings
are jeans that are leggings and are great for the office – and, they come in a variety of colors. Again, you can pair them with a cute tunic or sweater – or even a great blouse and blazer to dress them up a bit.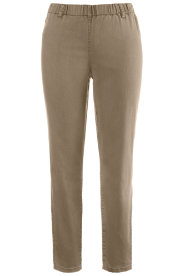 Always choose great accessories
Of course, you should take time to choose your accessories just as you take the time to choose your outfit. Make sure that you take care to choose the right accessories, shoes, and bags. One great trick to make yourself look taller is to choose to wear heels. Of course, some women may find it uncomfortable to function in high heels. So, you can choose more of a kitten heel – just enough to give you some length, but not so much that you can't walk very well. If you have an hourglass figure, a bold belt can work well. Finally, while a few pieces of jewelry are a great idea, you don't want to go overboard.
If you take the time to pay careful attention to these minor details, you won't have many problems choosing the right pieces for your wardrobe. Flaunt those delicate curves of yours with confidence! After all, when you choose the right pieces for your body type, your elegant look will always attract the attention you deserve!